Sorry friends. This is going to be a long post. These are just a select "Few" artists, though. My real list is about 10 times longer.
Giovanna Garzoni
A Dish of Broad Beans, c. 1600s

Maria Sibylla Merian
Rosa Bonheur
Plowing at Nivernais, Oil on canvas
1849
1823-1903, Take the Fair Face of Woman
Evelyn de Morgan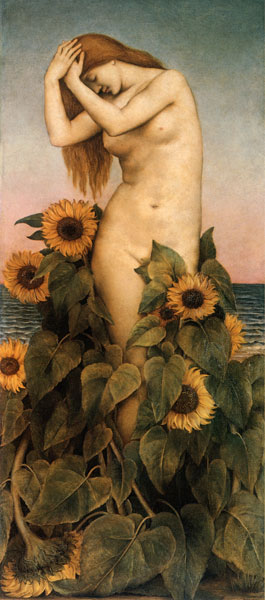 Clytie, 1886-87
Margaret MacDonald
Opera of the Sea, n.d.
Suzanna Valadon
The Blue Room, 1923
Kathe Kollwitz (one of my absolute favorites)
A crayon sketch from one of her drawing books
Frances MacNair
The Sleeping Princess, c.1909-15
Gabriele Munter
Wind and Clouds, 1910
Sonia Delaunay
Market at Minho, 1916
To be continued......
MORE TO COME IN A SEPARATE POST. I have an inkling this is going to monopolize the page already.


Posted by: Annah Ruhland